Show Primary and Secondary Categories
Party Rental Columbus GA
Anyone looking for the best party rental Columbus GA has to offer is in for a treat! When it comes to throwing an epic shindigthere's only one name you need to remember: Inflatable Playgrounds and Party Rentals. Why settle for the ordinary when you can have the extraordinary? From bouncy castles that defy gravity to waterslides that'll make you feel like a kid again, we're your go-to provider for all things fun and festive in Columbus, Georgia !
We specialize in transforming any gathering into an unforgettable celebration with our top-quality party rental Columbus GA customers use to transform any and every event. Whether you're hosting a birthday bash, a family reunion, or even a corporate event, we have the vibrant selection you need to create a lively and memorable atmosphere. From the thrill of water slides to the joy of bouncy castles, our extensive range caters to party-goers of all ages and interests.
Navigating our website is a breeze, just like planning your event should be. We've streamlined the rental process to ensure a hassle-free experience from start to finish. With detailed descriptions, vivid images, and simple online booking, you're just a few clicks away from securing everything you need for your special day. Plus, with our commitment to safety, cleanliness, and timely service, you can rest easy knowing that your event is in capable hands. Let our team help bring your party vision to life with the best party rental Columbus GA can provide!
Party Rentals Columbus GA Trusts for Memorable Evets
We've got the party rentals Columbus GA knows aren't just for kiddos' birthday parties. We're talking an all-you-can-play buffet of events here! Whether you're a corporate giant looking to boost team morale or a teacher planning an end-of-the-year field day we've got the party equipment rentals Columbus GA uses to make any event pop!
Corporate Picnics: Energize your team with a bouncy obstacle course that encourages friendly competition.


Festivals: Entertain large crowds with the best rentals bounce in Columbus GA and our food concession stands.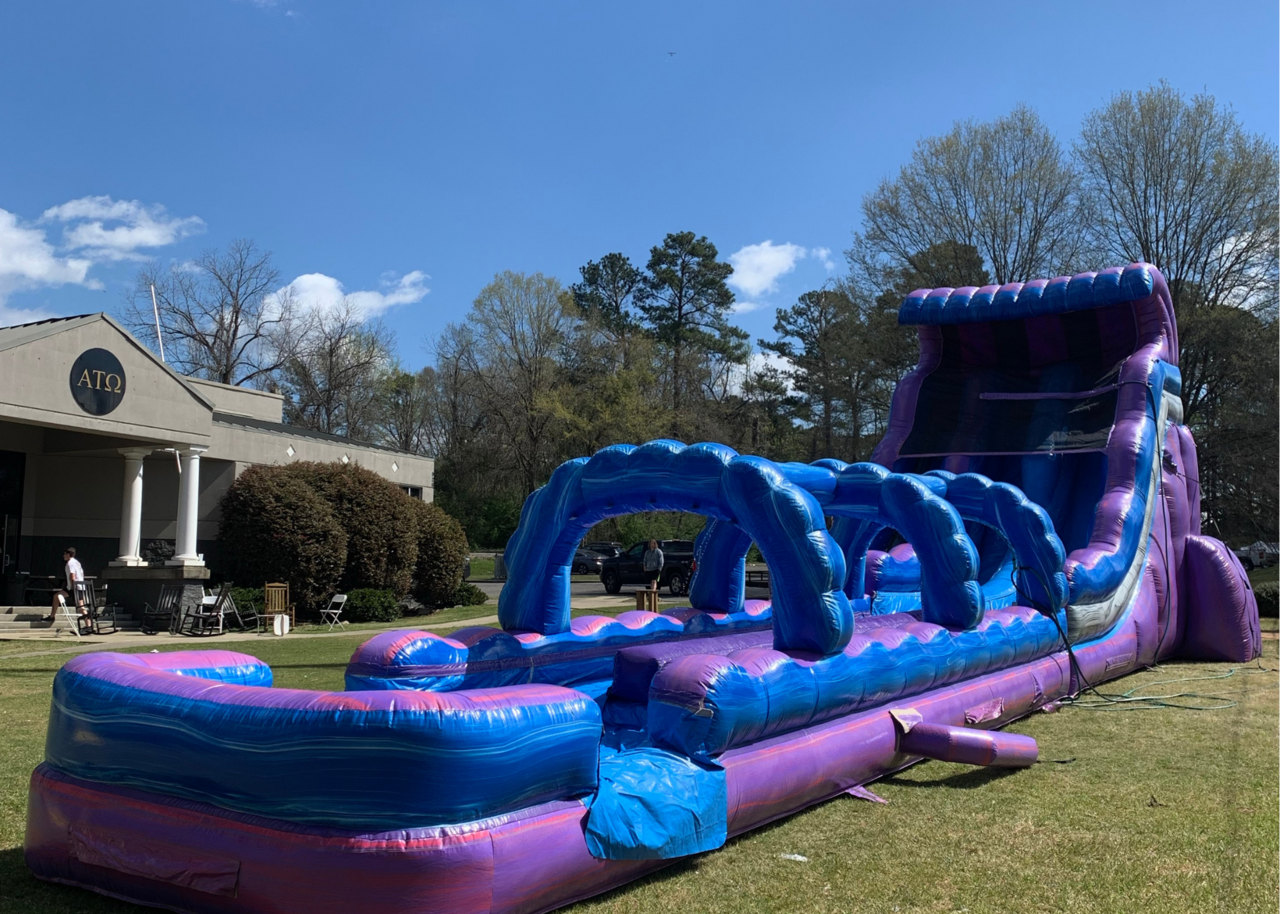 School Events: Our water slides and dunk tanks are perfect for end-of-year celebrations, field days, award celebrations,or fundraisers.


Community Fairs: From inflatable games to popcorn machines, we add fun to any local gathering with options for the whole family, including the party rentals for adults in Columbus GA


Bar Mitzvahs/Bat Mitzvahs: Keep teenagers engaged with adrenaline-pumping party supply rentals Columbus GA can't get enough of!


Baby Showers: Believe it or not, a cute, themed inflatable can be a whimsical backdrop for photos!


Quinceañeras: Add flair to this milestone celebration with a range of party rentals on Victory DR in Columbus GA that complement your theme.


Family Reunions: Create memories that'll last a lifetime with family-friendly games and slides.


Tailgate Parties: Elevate your pre-game festivities with some inflatable fun that'll make you the talk of the parking lot.


From local gatherings to laid-back shindigs, we've got the party rentals Columbus GA uses to bring the excitement to you. So, whatever you're planning, let us help you amp up the fun!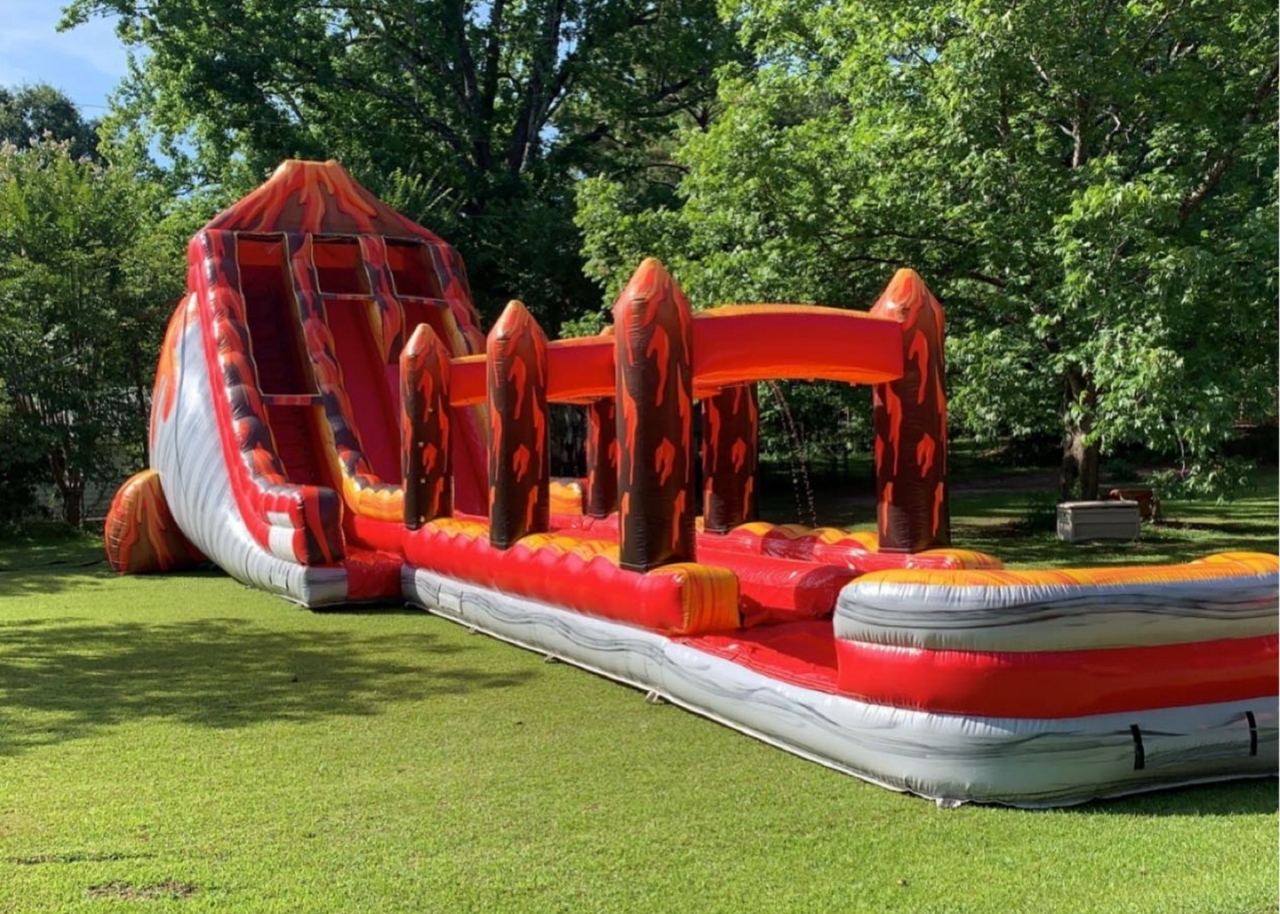 Inflatable Party Rental Columbus GA: Exciting Selections for All Occasions!
Book the #1 inflatable party rental Columbus GA can provide! Looking for the ultimate party boosters? You're in the right place! We've got everything you need to make your party pop:
Bounce Around: Jump into fun with our vibrant selection of bouncy houses.


Splash Away: Slide into excitement with our awesome water slides.


Play All Day: Challenge your friends with our obstacle courses and carnival games.


Treat Yourself: Enjoy homemade popcorn or cotton candy right from your backyard.


Whether you're seeking thrills or just want to chill, our range of party rentals is sure to delight everyone. Take a look at a selection of our most popular options and schedule your rentals online today!
Cool Off with a Sno Cone Machine!



Beat the heat and become the coolest party on the block with our easy-to-use Sno Cone machine. Just plug it in, add ice, and choose from two delicious flavors included in our low rental price. More flavors? Just say the word. It's a compact, must-have addition that'll keep the chatter and chill going!

Monster Truck Combo: Big Wheels, Bigger Fun!



Turn up the excitement with our Monster Truck Combo - the ultimate inflatable party rentals in Columbus GA. Perfect for kids 4-8, this monster-sized bouncy castle will make your little one's party unforgettable. It's a massive, monster truck-themed adventure right in your backyard, available at a great value. Get ready for some serious bounce and endless fun with our local party rentals in Columbus GA!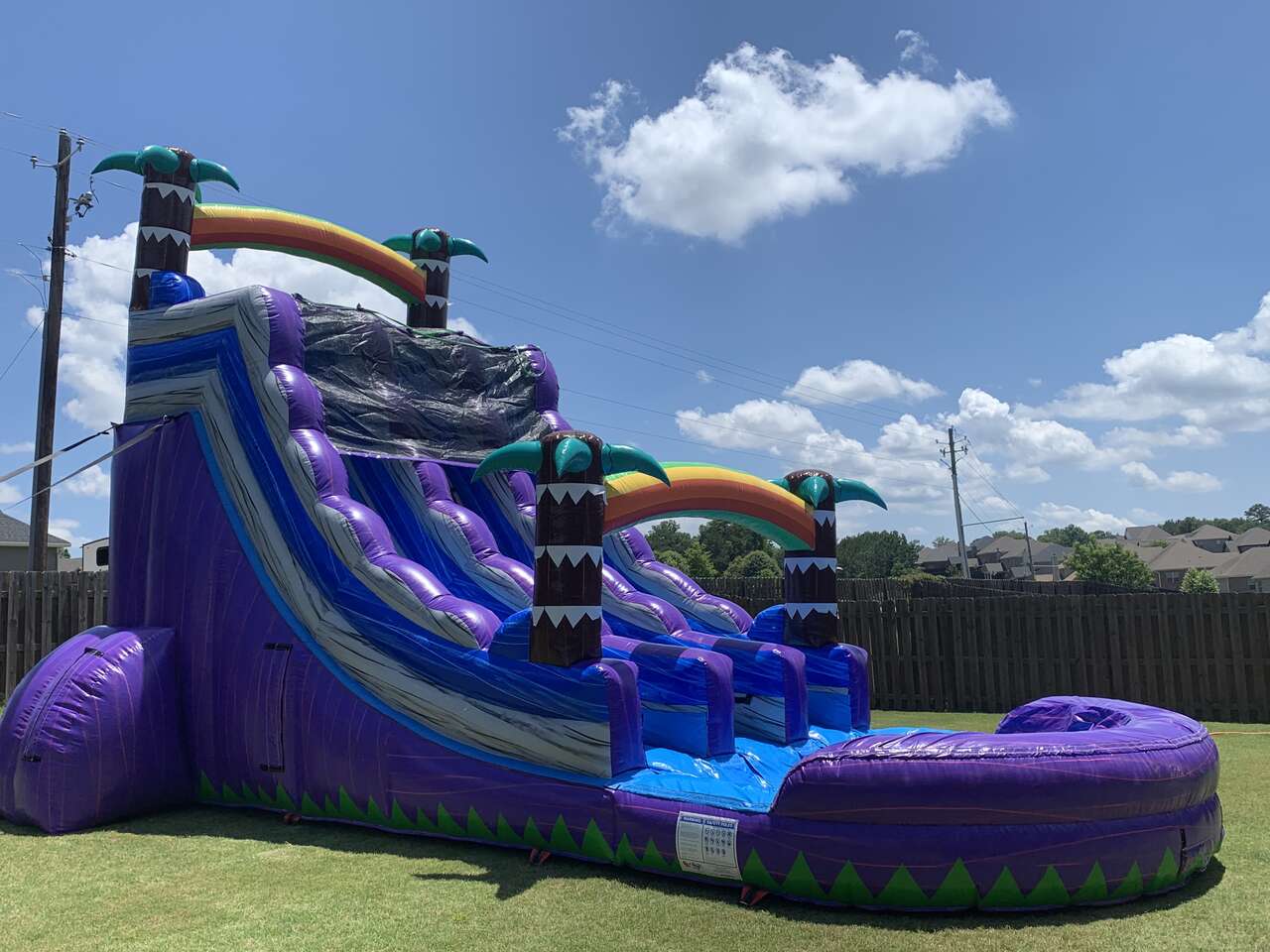 15' Blue Helix Double Waterslide: The Ultimate Cool Down



Splash into fun with our double waterslide! Race down the slip 'n slide, climb up, and choose your path: a straight drop or a swirling slide into a refreshing pool. It's the perfect way to cool off and add a splash of excitement to any event with our birthday party rentals in Columbus GA.

Whatever you're in the market for, we're confident we have the outdoor party rentals in Columbus GA that will take any event from ordinary to extraordinary in no time. Browse through our inventory, add to your cart, and seamlessly check out with our convenient and user-friendly online booking system!
How to Book Our Columbus GA Party Rental Options Online
Ready to lock in the fun for your next event with our Columbus GA party rental selections Our online booking system makes it easier than ever. Forget about long phone calls or complicated forms. With just a few clicks, you'll have your party rentals squared away and can get back to dreaming about all the smiles and laughter our epic backyard party rentals in Columbus GA will bring. Follow these simple steps and let the fun begin: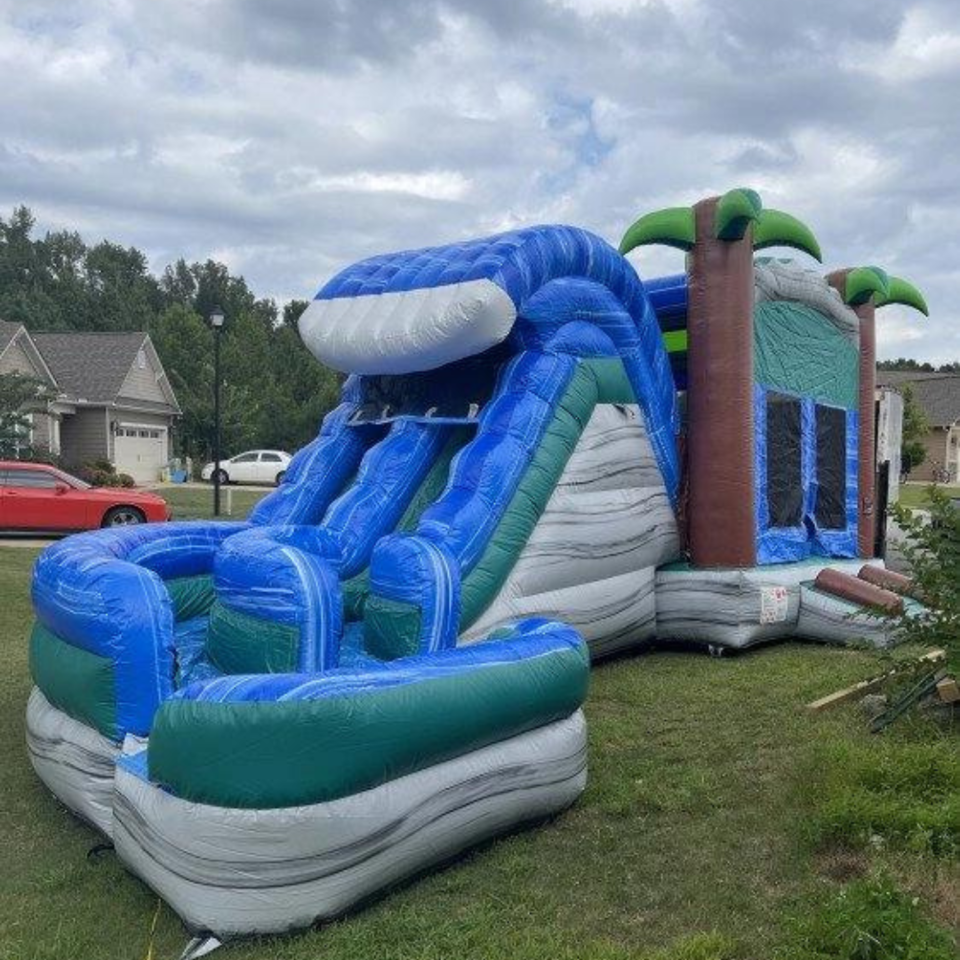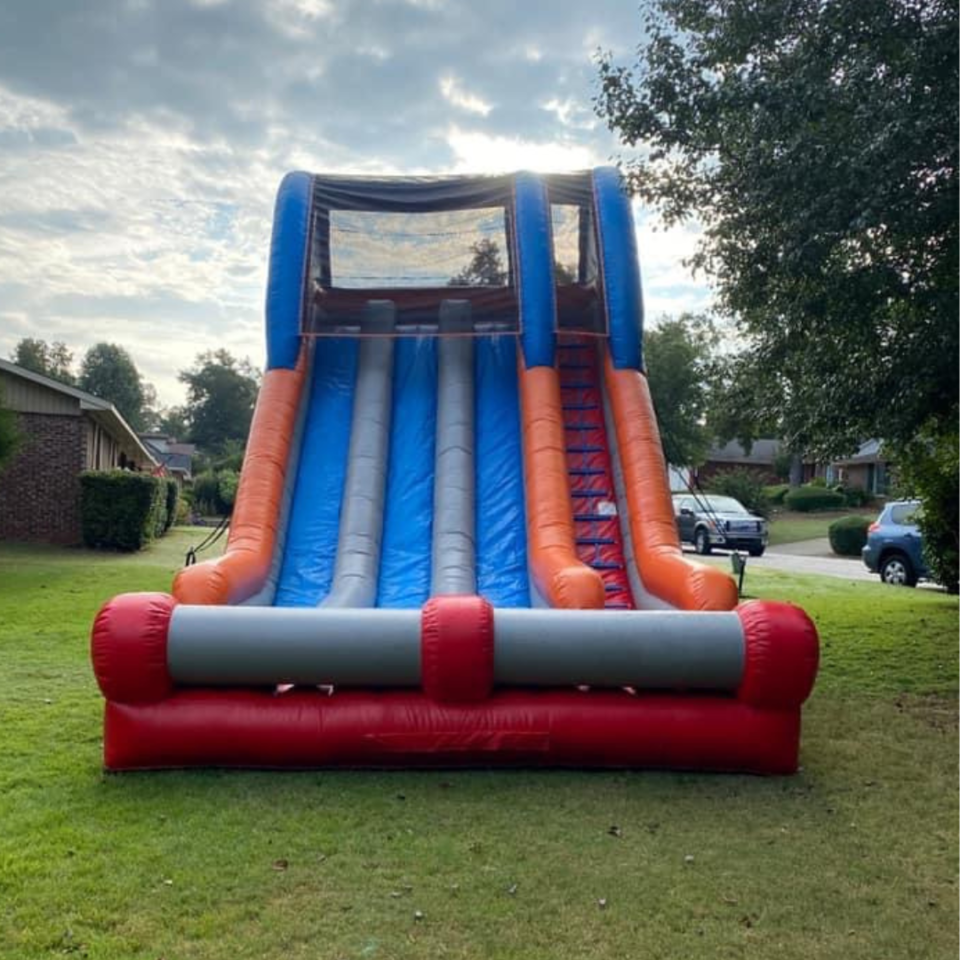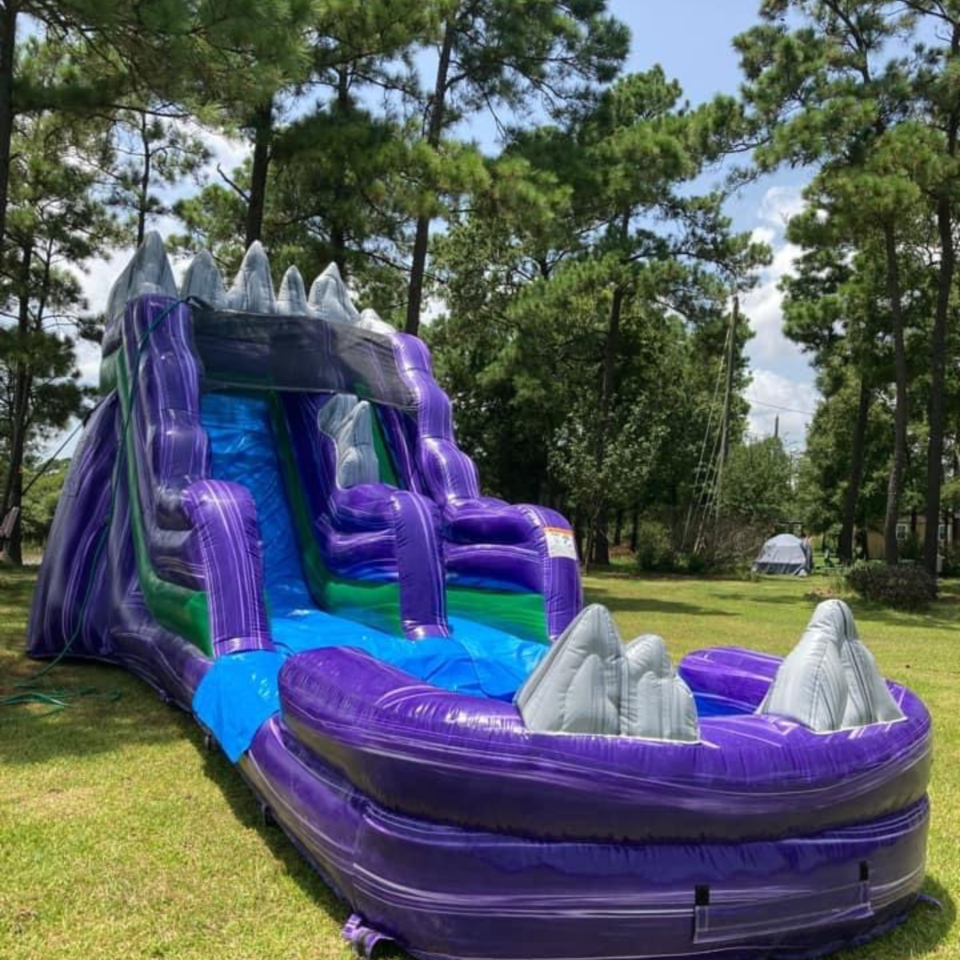 Discover Fun: Browse our online inventory to find the perfect inflatable or party rentals for your event. From bouncy castles to water slides, we've got equipment that's just right for your party theme and guest list!


Book It: Once you've found your match, click on the green "Book Now" button to review specific equipment details, then click the green "Add to Cart" button.


Check Availability: Click the green "Choose Date" button and select the date of your event to ensure your preferred inflatable is ready to make a splash at your party. Input your party start and end times.


Review Your Cart: Take a look at the grand total, including sales tax, and click the green "Checkout" button to reserve the best party rentals in Columbus GA.


Secure Your Rentals: Input your billing and contact information, as well as event information and any other details you'd like our team to know about your event. Let us know if you'd like our 7% damage waiver and read through our minimum payment notice before clicking the "Continue" button. Input payment information using any major credit or debit card for the minimum amount.


Get Confirmation: After you book, you'll receive a confirmation email with all your rental details. Make sure to check it over to confirm everything is set for your special day.


Enjoy the Day: We'll take care of the delivery, setup, and takedown. All you need to focus on is having fun!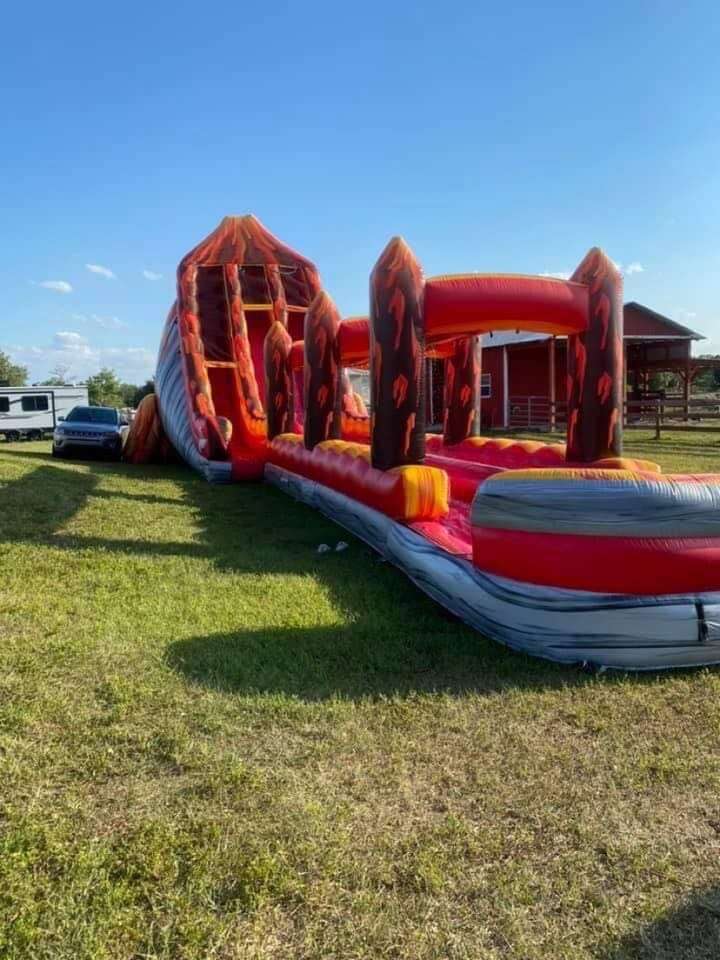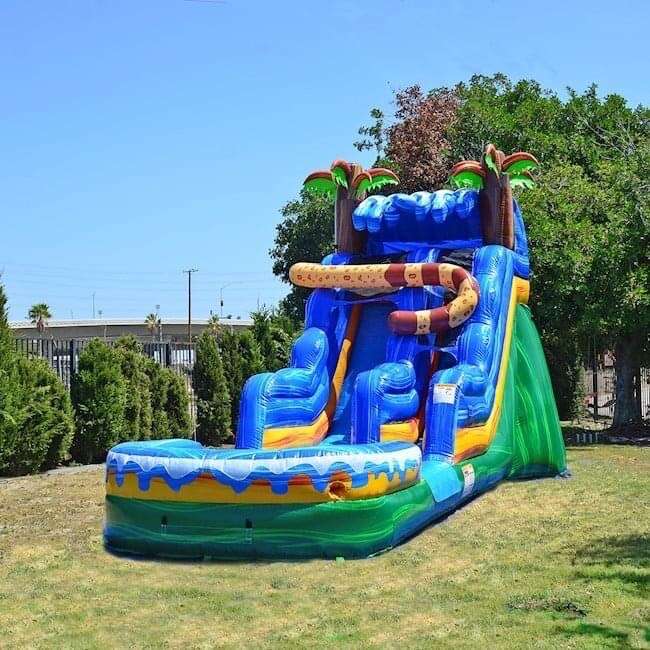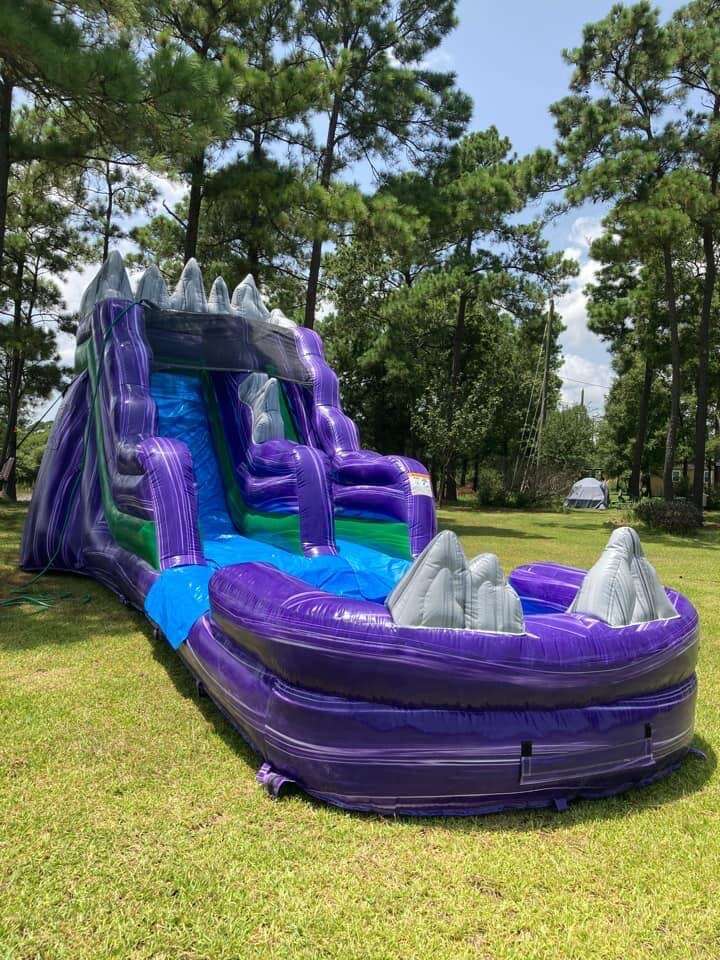 If you need help or have any questions during the booking process, our friendly support team is just a call or a click away. Planning ahead? You can book your rental well in advance so that you can check one more thing off your party planning checklist! If you'd rather book directly with one of our team members, feel free to give us a call at (706) 940-2386 to get started. With our Columbus GA party rental online booking system, your next event is just a click away!
What makes Inflatable Playgrounds different from the rest?
Cleanliness is our middle name!
We pride ourselves on delivering clean units EVERYTIME! we make sure each unit is vacuumed, sanitized, and completely clean for you!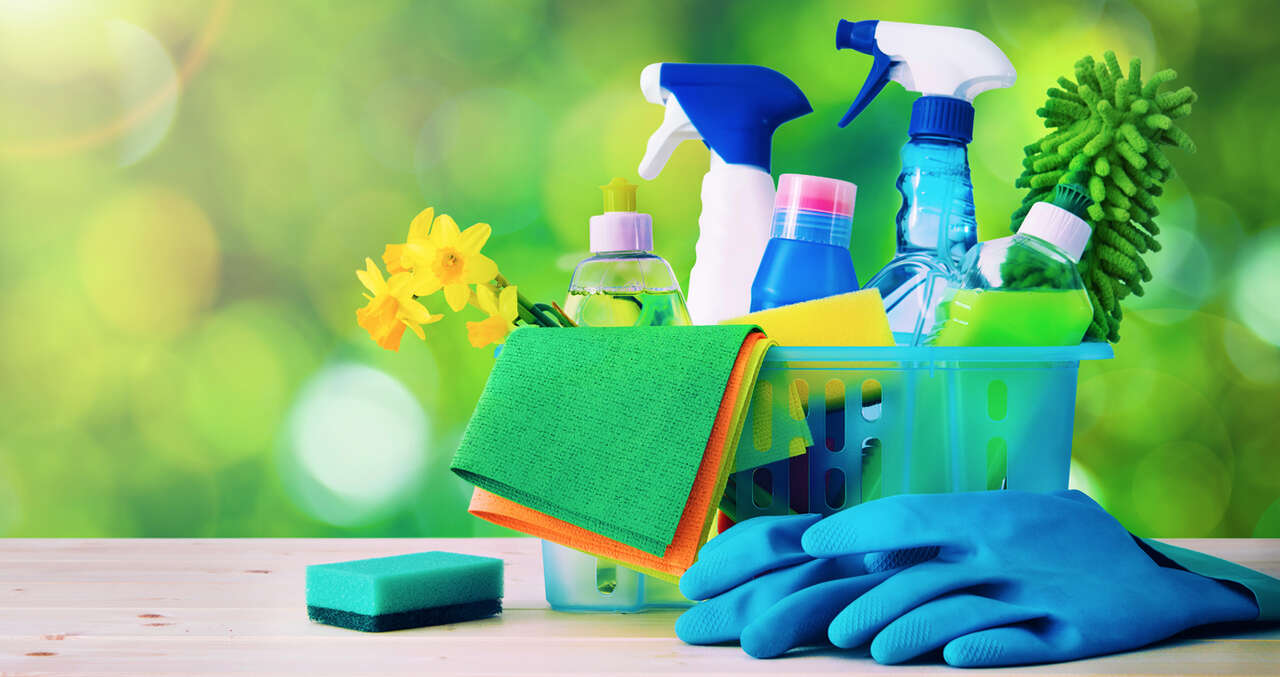 Book Now
We will show up on time EVERYTIME!
We provide excellent communication from the moment you book until the party is over! You never have to worry about a no show with IPG. We will always give you a call at least two days prior to your event to go over the delivery time with you! We also make sure to always call when we are heading your way to deliver!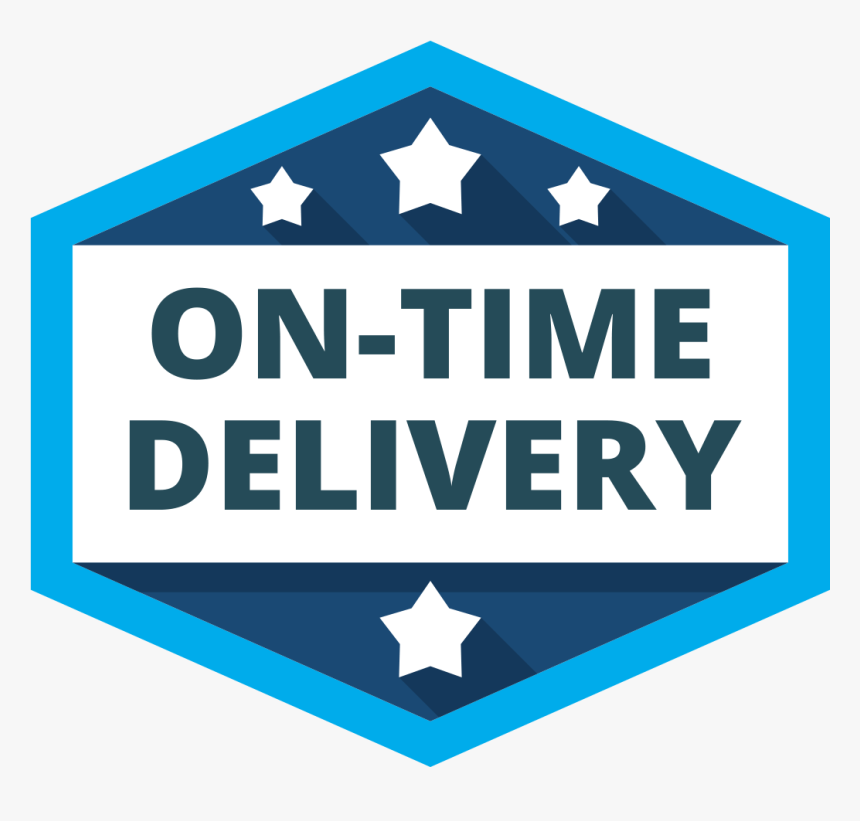 About Us
Competitive Prices!
We offer competitive prices to go along with our extended rental times. Don't pay the same price (or more) for hourly rentals!!!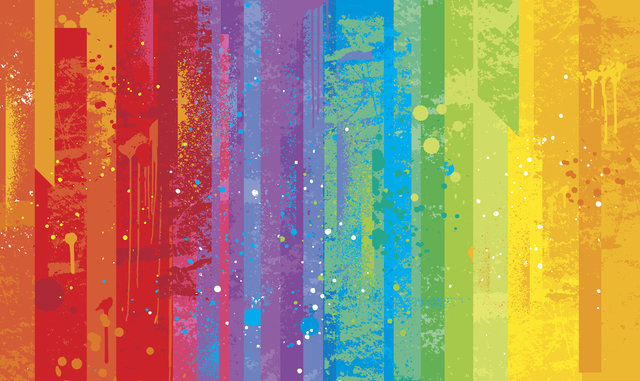 View Store
What is Your Weather Policy?
---
If your party or event is cancelled due to bad weather and you call us before our driver leaves our warehouse we can issue a full refund or issue a rain check. Rain check means the amount you paid can be held and used for your next rental. Once the equipment is set up, balance is due in full and no credit will be issued due to weather conditions.
About Us
---
To start off let us formally introduce ourselves, our names are Jacob Baker and Dalton Johnson! We are the owners of Inflatable Playgrounds and Party Rentals! We actually began working for this company when it was founded in 2015 and in 2020 we decided we loved it so much that we should buy the company! Here at IPG, we pride ourselves on having new and well maintained units and doing everything within our power to ensure your event is unforgettable (in a good way). Planning events and birthday parties is stressful enough without worrying about getting what you pay for or stressing about someone showing up on time, or trying frantically to clean a bounce house (that should have already been cleaned) before your guests arrive.

We strive to make your event as easy and stress free as possible; just book online, sign your contract, pick your event times and let us do the rest. Let us Bring the Bounce to your next party!
Glowing Reviews For Our Party Rentals in Columbus GA
Our customers can't stop raving about our party rentals in Columbus GA and we're thrilled to consistently earn 5-star ratings! Our inflatables are top-notch, but what really seals the deal is the whole package—the unbeatable quality, top-notch safety standards, and our budget-friendly prices. But the real show-stealer is our stellar customer service. Customers no longer need to endlessly search for "party rental companies near me in Columbus GA." Have questions or concerns, or just want to chat about the best inflatable for your child's birthday? Our team is all ears! It's this sprinkle of extra care that has our customers coming back, party after party. So, for a 5-star experience that will have you joining our fan club, Inflatable Playgrounds and Party Rentals has got you covered! Take a look at a selection of our positive reviews below and schedule a rental online today!
What Customers are Saying
"I've been a customer for a few years now and it has always been a pleasure doing business with inflatable, playgrounds and party rentals. The customer service is phenomenal! Jacob and Dalton always arrive on time, set up is smooth and pick up is super easy! Hand down the best around!"
- Kristin MC.
"Called them last minute and they were able to bring out a slide for my kids. Everything was great. Communication was great and the slide was very clean. I will definitely be using them in the future."

- Ross H.
"Listen! This is the ONLY bounce house rental company I use. Excellent quality products. Expansive fleet with a variety of options. Excellent customer service. Always on time, never had an issue. I suggest anyone looking for inflatable rentals to hit up Jacob! You won't be disappointed!"
- Danielle T.
Previous
Next
Party Rentals Near Columbus GA: Your Community-Driven Celebration Partners
Let's talk about our party rentals near Columbus GA, and the heart of the matter: our deep-rooted pride in serving the Muscogee County community. From the bustling neighborhoods to the tranquil parks, we've been adding fun and excitement across the entire county, including the following zip codes: 31801, 31804, 31808, 31820, 31829, 31901, 31902, 31903, 31904, 31905, 31906, 31907, 31908, 31909, 31914, 31917, 31993, 31997, 31998, and 31999. We also cover Phenix City, Fort Benning, Smiths Station, Midland, Fortson, Fort Mitchell, Seale, Cataula, Salem, Upatoi, Ellerslie, Hamilton, Pine Mountain, Opelika, Waverly Hall, Hatchechubbee, and Auburn.We're proud partners with the Muscogee County School District, helping support a range of events year-round, including field days, award celebrations, sporting events, festivals, and more. Nothing beats the sight of kids gleaming with joy as they bounce around in our inflatables at school events, as customers no longer need to spend hours searching for "party rentals near me Columbus GA" to find our services.
Our customers enjoy hosting events at our fabulous local parks, including Columbus Botanical Garden Heritage Park, Dinglewood Park, and Weracoba Park. Be sure to add outdoor party must-haves like tables, chairs, concession machine rentals, and the #1 bounce house rentals Columbus GA has to offer to your cart if you're planning an event at one of our beautiful parks or outdoor venues. For those who like to mix nature and exercise, Cooper Creek, Carver Park, 14th Street Pedestrian Bridge, Oxbow Meadows, and Flat-Rock Park are where it's at! With so many glorious green spots, we can't help but feel lucky to help people celebrate in these local gems with the heavenly inspired party rentals Columbus GA uses year-round.
Columbus
Phenix City
Fort Benning
Smiths Station
Midland
Fortson
Fort Mitchell
Seale
Cataula
Salem
Upatoi
Ellerslie
Hamilton
Pine Mountain
Opelika
Waverly Hall
Hatchechubbee
Auburn
Muscogee County has countless fun-filled and exciting sights to see, including landmarks like Coca-Cola Space Science Center, RiverWalk, National Infantry Museum and Soldier Center, Columbus Museum, and Fort Benning. We're absolutely thrilled to be part of such a vibrant and diverse community. Here's to many more years of inflatables, laughs, and all-around good times with our party rentals near Columbus GA!
Recently
Viewed FAQS About the Party Rentals Columbus Georgia Can't Get Enough Of
If you have questions about the party rentals Columbus Georgia prefers, our FAQs section has all the answers you need to get your party started right! Read through our frequently asked questions below and get in touch with our team if you need any additional information by giving us a call at (706) 940-2386.
Q.
How much does it cost to book party rentals?
A.
Prices for the cheap party rentals Columbus GA prefers vary depending on the type of equipment and the rental duration. We're proud to offer competitive rates to fit all kinds of budgets, party themes, and timeframes. Browse our website for specific pricing details.
Q.
How do I book party rentals?
A.
Booking our Columbus Georgia party rentals is a breeze with our online reservation system. Just select the rental equipment you want, pick your date, specify the event start and end times, review your price, and hit checkout. You'll be party-ready in no time!
Q.
What types of party rentals do you offer?
A.
All kinds! From bounce houses to water slides to concession machines, we have it all! Whether you're looking for kids birthday party rentals in Columbus GA for exciting entertainment or event furniture to make sure everyone has a seat at the table, we've got you covered.
Q.
What happens if it rains on the day of my rental?
A.
We understand that weather can be unpredictable. If rain or high winds are in the forecast, we'll work with you to reschedule your rental. Your safety and enjoyment are our priorities, so we'll make sure you're taken care of.
Q.
Can inflatables be set up indoors?
A.
You bet! Inflatables can be set up indoors, provided there is enough space and ceiling clearance. Gymnasiums, halls, and large indoor venues are great options for setting up our inflatables. Just let us know the details, and we'll work with you to ensure everything fits perfectly with the #1 party rentals Columbus Georgia has to offer.
Q.
Do you have any party rentals for large events?
A.
You bet! We offer professional party rentals in Columbus GA that are perfect for festivals, school events, or any large gathering. Plus, our team can help you plan the logistics to make sure everything runs smoothly.