Tables and Chairs

Need additional seating or shade at your event? We have plastic 6ft tables and white plastic foldable chairs available for rent! Our tables and chairs are cleaned and sanitized after each rental. We now offer 10x10 tents, a perfect way to provide your guests with much-needed shade during those hot summer months. Our tents can also be used to set up your event's food, drinks, and desserts!
Tent Rental Columbus GA
For the best tent rental Columbus GA can provide, choose Inflatable Playgrounds and Party Rentals, the premier option for tent, table, and chair rentals. With our friendly and experienced team on your side, your event needs are met with excellence and care. Whether you're planning an intimate backyard gathering or a community event, our extensive selection is designed to cater to every occasion with style and comfort.
Our locally owned and operated business is proud to serve Columbus, Georgia , and the surrounding areas of Muscogee County with top-notch event furniture and party rentals for all occasions. When it comes to seating solutions, we understand the importance of quality and comfort. That's why our tables and chairs are selected with the guest experience in mind. Our sturdy, clean, and stylish options allow you to create the perfect layout for your guests to mingle and enjoy with the chair, table, and tent rental Columbus GA customers count on.
Choose us for your next event and experience the ease and reliability that come with our high-quality tent, table, and chair rentals. Let us take the stress out of your event planning, leaving you to create lasting memories with your guests by booking the #1 tent rental Columbus GA has to offer!
Choose Us For The Table, Chair, and Tent Rentals Columbus GA Can Depend On
Choose us for the table, chair, and tent rentals Columbus GA can depend on. For every event that brings people together, comfortable and reliable seating and coverage are a must-have. Our tent, chair, and table rentals are the foundation for creating memorable occasions, from community festivals to intimate backyard celebrations.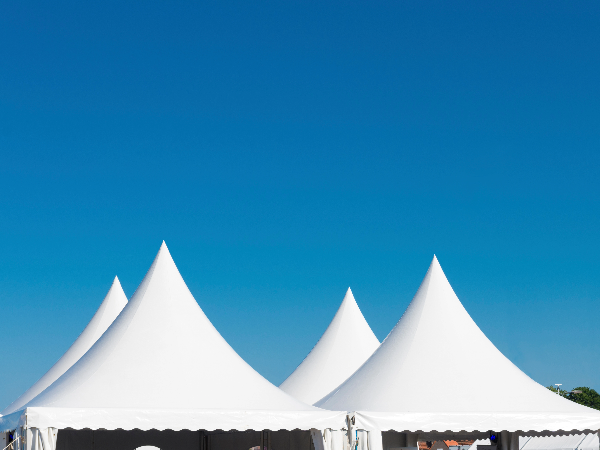 Community and Corporate Events: Our folding chairs and rectangular tables provide the ideal combination of comfort and professionalism. They set the stage for impactful presentations, enjoyable meals, and dynamic networking opportunities. With our clean, uniform setups, your event will leave a lasting, positive impression.


Social Gatherings and Outdoor Celebrations: Whether it's a family BBQ or an outdoor concert, our table and chair rentals ensure your guests are seated in comfort and style. Utilize our sturdy tables for a spread of grilled delights or create VIP seating to elevate the concert-going experience.


Markets and Fairs: For farmers' markets or flea markets, our tables are the perfect display platform for local produce or unique finds. They offer ample space and sturdy surfaces for vendors to showcase their goods to the community.


Personal Celebrations: Birthdays, baby showers, and graduation parties are just a few of the personal milestones that benefit from our table and chair rentals. They provide a designated space for gifts, food, games, and socializing, making any party area festive and functional.


Community and Religious Events: Our rentals offer the practicality and comfort needed for outdoor sermons, ceremonies, and gatherings, ensuring that the focus remains on the meaningful interactions and messages being shared.


No matter the event, our folding chairs and rectangular tables are the unsung heroes, supporting every laugh shared, every deal made, and every memory created. Choose our table and chair rentals for your next Columbus, GA event, and trust that your guests will be accommodated with the best. From outdoor festivals to intimate dinner parties, we've got the chair, table, and tent rentals Columbus GA uses to keep you covered—literally! Our high-quality tent, table, and chair rentals are the must-have additions to make your event as awesome as your party will be.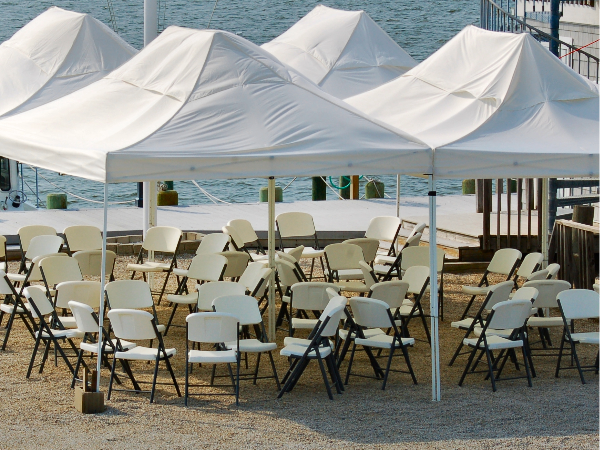 High-Quality Table and Chair Rentals Columbus GA Customers Can Count On
Discover the high-quality table and chair rentals Columbus GA uses to keep party guests comfortable at a range of events. Our inventory is where exceptional variety meets unparalleled service. Whether it's a community-wide celebration or an intimate get-together, our selection is designed to elevate your event with style and comfort.
When it comes to hosting an event, the right table can be the cornerstone of your setup. Our sturdy rectangular tables are the perfect blend of form and function, providing a spacious platform for dining, socializing, and celebrating. Crafted with care, these tables are not just a place to sit—it's where memories are made.
Our premium folding chairs are more than just a seat—they're your ticket to comfortable socializing, dining, and relaxing. Designed for stability and ease, these chairs offer a welcoming perch for guests of all ages. Whether lined up for a ceremony or gathered around our spacious tables, our chairs are the silent heroes of comfort and convenience at your event.
With a commitment to quality and service, we ensure your table and chair rentals in Columbus, GA, are seamless from start to finish, leaving you free to focus on the moments that matter most!
How to Book The Table and Chair Rental Columbus GA Prefers
Booking the table and chair rental Columbus GA party planners prefer is as easy as 1-2-3—literally! Get ready to transform your event from mundane to magnificent with just a few clicks. We've streamlined the whole process so you can focus on the fun stuff. Follow the steps below to seamlessly book online: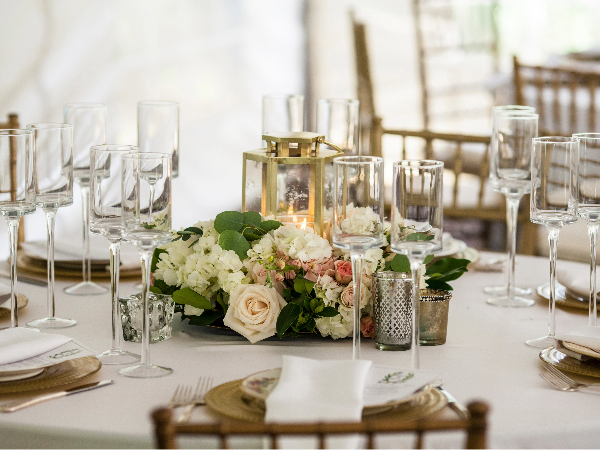 Pick Your Rentals: Take a look at all the options we have – from rectangle tables perfect for chit-chats to chairs that'll keep your guests comfy.


Click on What Catches Your Eye: Once you've found the right equipment for your event, click on the picture or the "Book Now" button for more details.


Check Availability: Once you've found the perfect equipment and verified the details, click on the "Add to Cart" button, then click "Choose Date." Select your event date, event start time, and event end time.


Keep Shopping or Checkout: Need more goodies? Click "Continue Shopping" to add more fun to your cart. All set? Click "Checkout" to begin the reservation process.


Fill Out Your Info: At the checkout page, fill out your contact, billing, and event information. Read our rental agreement and click "Continue."


Securely Pay: Using our secure booking system, pay the minimum amount to complete the reservation using any major credit or debit card.


Check Your Email: Once you've made your deposit, you'll receive an email confirming your rental with a digital copy of your receipt. Our team will reach out prior to your event to confirm a delivery window that works for you.


Party Time! On the big day, we'll deliver your tables, chairs, and any other equipment. We set things up so you can focus on having fun. Once the party's over, we'll come back to pick everything up.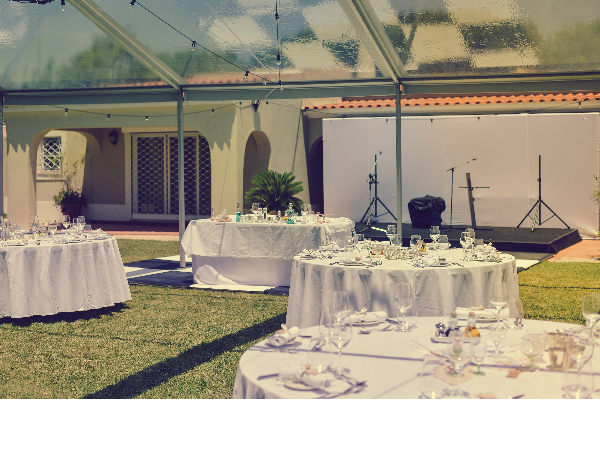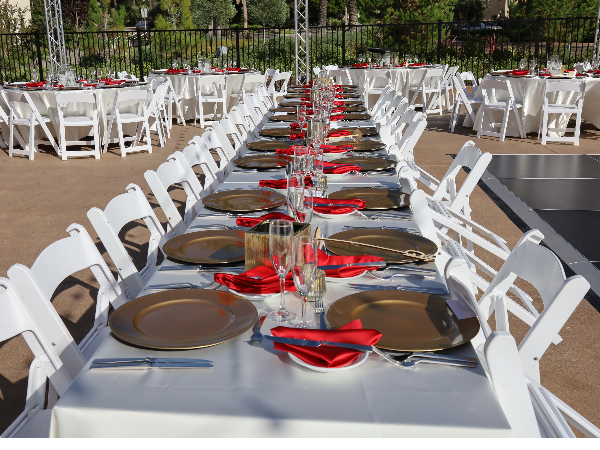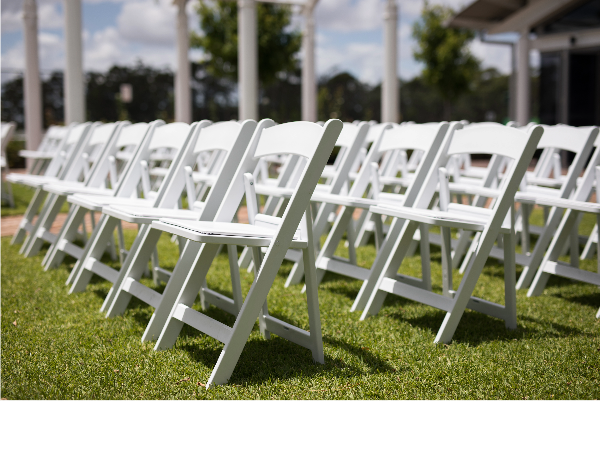 And there you have it! With the table and chair rental Columbus GA recommends, your next epic event is just a few clicks away. If you'd prefer to speak directly with one of our team members to make your reservation, call us at (706) 940-2386, and our team will be happy to walk you through the process. Click, book, and party on!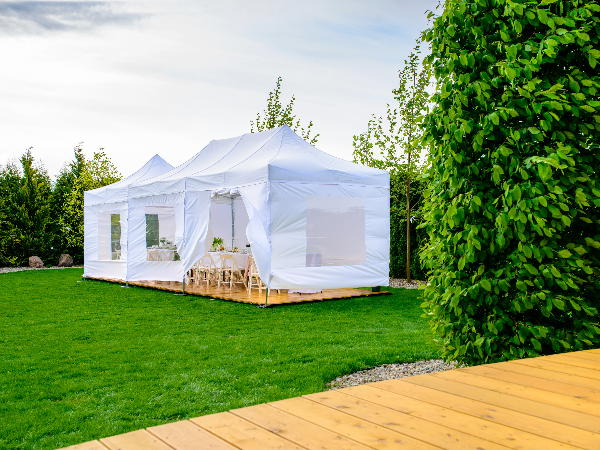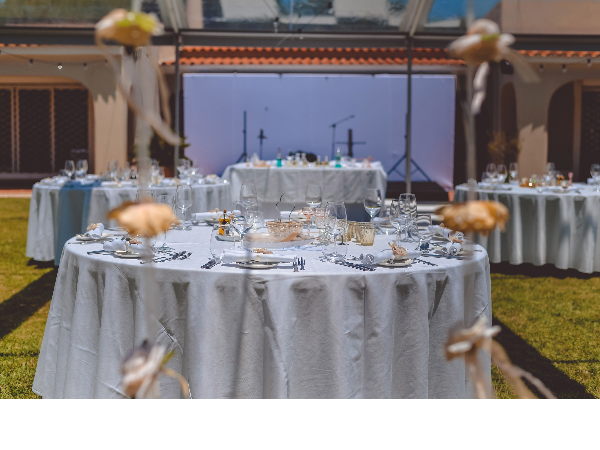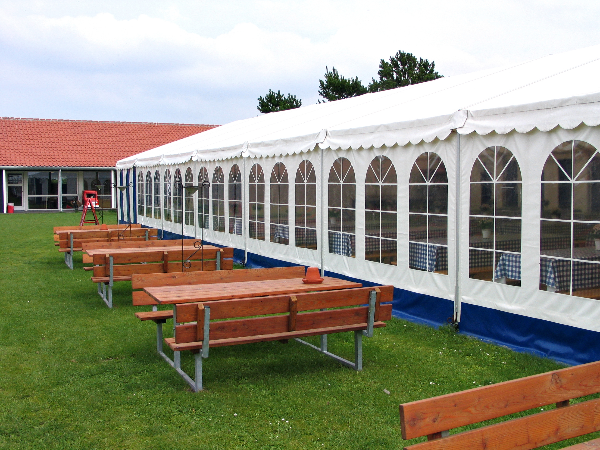 Table, Tent, and Chair Rentals Columbus GA Residents Trust for Community Gatherings
We're proud to deliver table, tent, and chair rentals Columbus GA customers use to keep attendees comfortable at various events. At the heart of Muscogee County, we proudly position ourselves as a community-centric pillar, extending our services across a wide range of the area, including the 31801, 31804, 31808, 31820, 31829, 31901, 31902, 31903, 31904, 31905, 31906, 31907, 31908, 31909, 31914, 31917, 31993, 31997, 31998, and 31999 zip codes. We offer delivery to Phenix City, Fort Benning, Smiths Station, Midland, Fortson, Fort Mitchell, Seale, Cataula, Salem, Upatoi, Ellerslie, Hamilton, Pine Mountain, Opelika, Waverly Hall, Hatchechubbee, and Auburn. So whether you're close to the heart of the city or on the outskirts, we've got the tent rental near Columbus GA that gets your needs covered.
We're more than just a rental service; we're your neighbors, actively partnering with local clubs, organizations, churches, and school districts, like Muscogee County School District, to support events that bring us together by supplying chair rentals Columbus GA and surrounding areas can depend on. Our dedication goes beyond mere transactions—we collaborate closely with community leaders to tailor experiences that resonate with local values and needs. By providing high-quality chair rentals and event furniture, we're not just delivering to doorsteps; we're helping to build the foundations of community events that leave lasting memories.
Our customers enjoy taking advantage of all of the amazing sites our city has to offer and often host events at our beautiful local parks, including Flat Rock Park, Cooper Creek Park, and Lakebottom Park. Be sure to add concessions, inflatables, and the #1 party rental Columbus GA has to offer to your cart to complete your outdoor party package!
As a locally owned and operated business, we're proud to call Columbus home. Take your visiting relatives to the Coca-Cola Space Science Center or RiverWalk after your backyard shindig. Looking for some history and culture? Try the National Infantry Museum and Soldier Center or the Columbus Museum. Better yet, pay tribute to our brave soldiers at Fort Benning. Being a part of this community is something special, and we can't wait to continue adding joy to your events with the chair rentals Columbus GA can't get enough of!
FAQs About Our Table, Chair, and Tent Rentals in Columbus GA
Do you have questions about booking our table, chair, and tent rentals in Columbus GA? Check out our FAQs section to learn more and begin the reservation process today! Need additional information or details before beginning? Give us a call at (706) 940-2386 today!
Q.
How many tables and chairs can I rent at one time?
A.
You can rent as many tables and chairs as your event requires! Our inventory is stocked with various options that our customers can use to get ready for big bashes or intimate gatherings. Just browse our website, pick what you need, and add it to your cart. If you're hosting a huge crowd and need a bunch, it's a good idea to book in advance to make sure we have all you need.
Q.
Do you deliver and set up the tables and chairs?
A.
Absolutely! We deliver the tables and chairs right to your event location. With our helpful and experienced team by your side, you can focus on the fun stuff, like decorating and getting ready to party! When it's all over, we'll come back to pack up and take everything away.
Q.
What areas do you deliver to?
A.
We're happy to offer delivery across Muscogee County in the following cities: Phenix City, Fort Benning, Smiths Station, Midland, Fortson, Fort Mitchell, Seale, Cataula, Salem, Upatoi, Ellerslie, Hamilton, Pine Mountain, Opelika, Waverly Hall, Hatchechubbee, and Auburn. For any deliveries outside of this range, there might be an additional delivery fee, depending on how far we need to travel. Give us a call and we'll figure out the details for you!
Q.
What table sizes do you offer for rent?
A.
For parties of all types and sizes, we offer our 6-foot rectangle table. Our tables and chairs are cleaned and sanitized before each use and can be rented in multiples to match pair with our tent rentals in Columbus GA to ensure seating and comfort for all your guests.
Glowing Reviews for our Chair, Table, and Tent Rental in Columbus GA
Our chair, table, and tent rental in Columbus GA stands out as the gold standard in Columbus, GA, with a shining 5-star rating that we've earned through unwavering commitment to quality and customer service. From cozy family reunions to large-scale community festivals, our clients trust us to provide comfortable, clean, and sturdy setups that complement any event. It's not just about the quality of our rentals but also the reliability and professionalism of our service, which consistently exceed expectations, ensuring every aspect of your event is nothing less than exceptional! Read through a selection of our positive customer testimonials below and schedule your table, chair, and tent rentals in Columbus GA online today!
What Customers are Saying
"This is by far the BEST company to rent inflatable slides from! They have the BEST prices and most importantly the very BEST customer service! We had a small issue with the slide we ordered so Jacob upgraded our slide with no additional cost to us. He sets the slide up way in advance so you have plenty of time to enjoy it and get your moneys worth out of it. Most inflatable places around here charge way more and only give you the slide for a couple of extra hours the day of the party. Do not look any further, contact Jacob today for your party rental. You will not be disappointed!"
- Jenna G.
"Have rented from this company thrice in the last 2 years and have always been completely impressed with their customer service and communication. Rented the Pink Bounce House/Slide combo for my daughter's 6th birthday and she loved it."
- Rachel H.
"I used this company and my children loved it they had a blast."
- Preston L.
Previous
Next