Waterslides

You can go right with a water slide rental from Inflatable Playgrounds and Party Rentals. These giant inflatable slides are an exciting addition to any party or event. They are large and colorful and will be the centerpiece attraction at your event. Make a big statement with our 22ft Volcano with slip-and-slide attachment; it's one of the most fun slides in the Chattahoochee Valley. All of our water slide rentals are manufactured from "Lead-Free" vinyl. They are cleaned and sanitized for every rental for your child's and your guest's safety. Browse the selections below and click on the title or image for additional information to make a reservation.
Water Slides Columbus GA
Looking for the ultimatewater slides Columbus GA can use to beat the Georgia heat? Say "hello" to Inflatable Playgrounds and Party Rentals, your go-to oasis for water slide rentals that turn your backyard into a tropical paradise! With our high-quality inflatables, you're not just sliding—you're gliding on a wave of awesomeness in Columbus, Georgia .
Why settle for a plain water slide when we can guarantee you a tremendous splash? Our water slides are more than just inflated plastic; they're meticulously crafted, adrenaline-pumping fun factories. Safety? Check! Cleanliness? Double-check! Every slide is sanitized and inspected to ensure we have the water slides Columbus GA can trust to be nothing short of perfection.
Our team at Inflatable Playgrounds and Party Rentals takes customer service to the next level. We've got friendly experts ready to set up, break down, and ensure everything flows smoothly at your event. Simply put, our customers love us so much that they can't help but slide back for more. Ready to dive in? Booking the water slides Columbus GA kids and parents love is as easy as 1-2-3. Browse our website, select your dream slide, and let the aquatic adventures begin.
Water Slide Rentals Columbus Georgia: Make a Splash at Every Event
From kid's birthdays to adult soirees, we've got the water slide rentals Columbus Georgia knows are the ultimate crowd-pleasers for any occasion. You name the event; we've got the slide that fits the vibe! Here's a quick rundown of events where our epic water slides can make a memorable splash: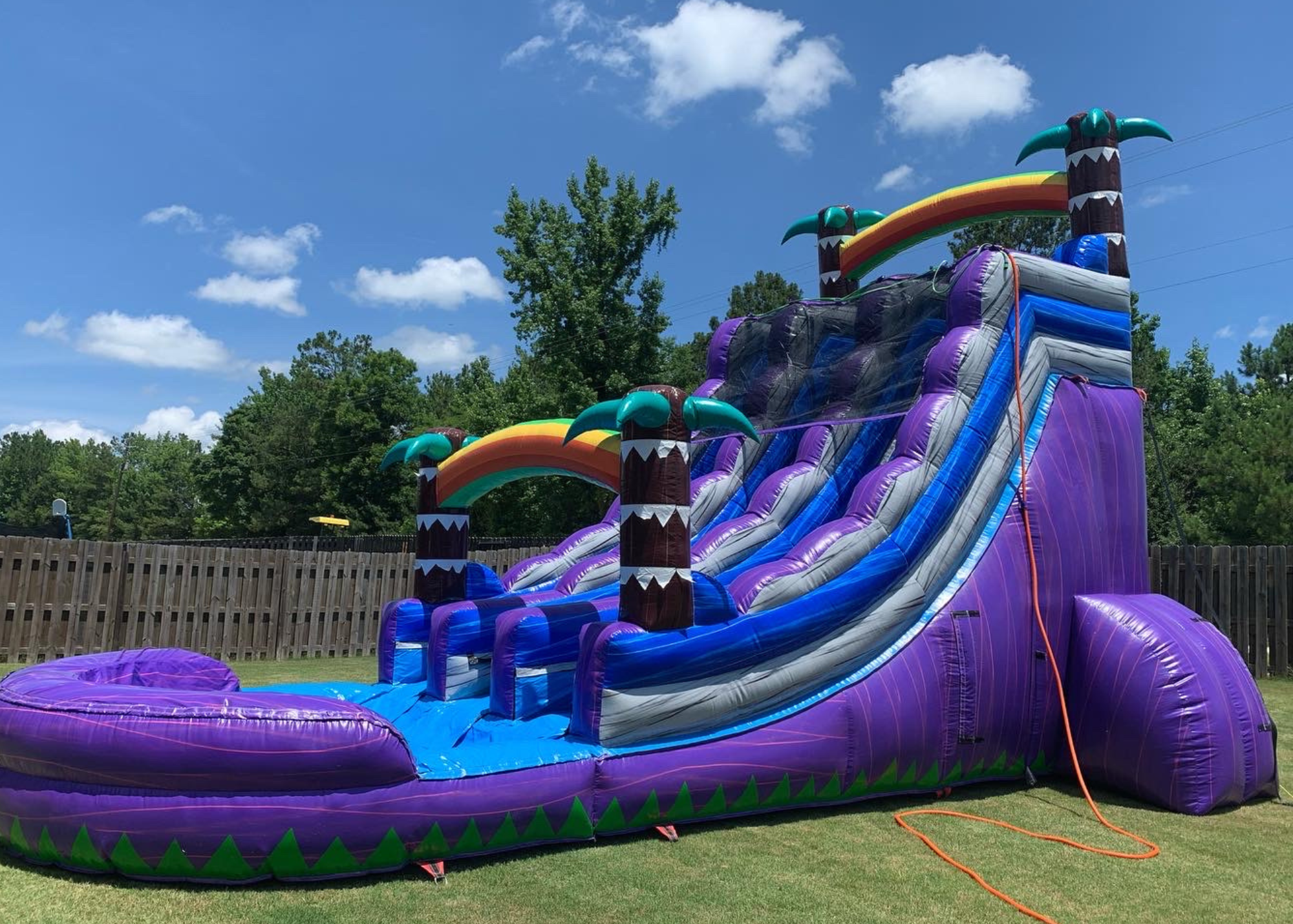 Birthday Parties - Make your child the coolest kid on the block with the bounce house with water slide rentals Columbus GA kids won't forget.


Company Picnics - Loosen those ties and swap business suits for bathing suits; it's time to bond with colleagues over the water slide rentals Columbus GA can't get enough of.


Church Events - Bring the community together for some wholesome and memorable fun.


Summer Camps - Give campers a special treat with a blow up water slide rental Columbus GA parents and kids will use to make this summer unforgettable.


Business Grand Openings - Add some extra fun for new customers (and maybe even the employees) with an adult water slide rental Columbus GA Patrons will never forget.


Charity Events - Raise funds with an enjoyable water slide that everyone will want to try.


Festivals - Our Columbus GA water slide rental is a great way to keep festival-goers cool and entertained.


Sporting Events - Celebrate wins or ease those losses with a trip down one of our slides.


Graduation Parties - Mark the end of an era and the start of summer with a slide that screams "freedom!"


Whether it's cooling off team members at a soccer tournament or bringing extra joy to a family reunion, we've got the water slide rentals Columbus Georgia uses to turn your event from ordinary to extraordinary.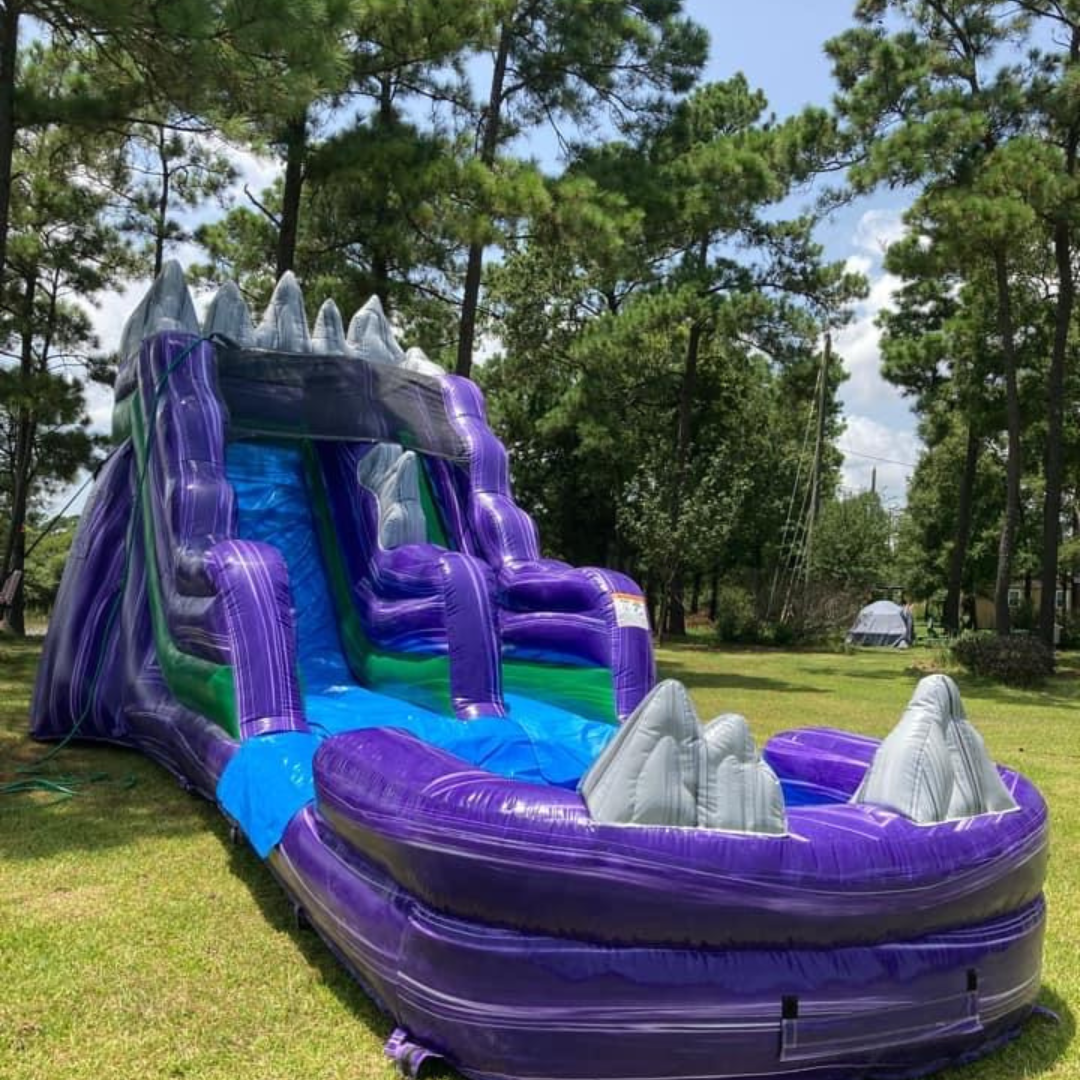 Our Incredible Selection of Inflatable Water Slides Rentals Columbus GA Can Choose From
Dive into the fun with the best inflatable water slides rentals Columbus GA has to offer! Our collection is brimming with options for every thrill level—from towering giants for the daredevils to pint-sized slides for the tots. Crave a twisty escape or a rapid descent into a splashy finish? We've got the slide to fit your vibe. Plus, our unique combos merge the fun of a slip 'n slide with a refreshing pool. With a range as diverse as the ocean's depths, you're sure to find the perfect match for your event.
Make waves with our 12ft Lava Crush Waterslide, a compact thrill ride that's big on fun. Its manageable size, complete with safety handles for easy climbing, promises a splash-tastic time for the young and young at heart. Ready to boost your party's fun factor? Click add to cart and let the splashing begin with this rental water slides in Columbus GA.
Cool down with our 15ft Glacier Falls Waterslide. Set it up for a splash-filled adventure that's sure to be a hit. This Columbus GA waterslide is a breeze to install, requiring just one outlet, and offers endless fun and a refreshing escape from the heat. Don't miss out—add it to your event for unforgettable memories!
Double the lanes, and double the fun with our 15ft Tsunami Double Lane Waterslide! It's a crowd-pleaser that lets guests race down to a spectacular pool landing. Ideal for any hot day, this Columbus GA water slide is a surefire way to amp up the excitement and keep the cool. Grab it for your next event and watch the fun unfold!
How to Rent Inflatable Water Slides Columbus Georgia Can Depend on For Big Fun
Ready to rent inflatable water slides Columbus Georgia uses to turn backyards into the ultimate water park? Booking with Inflatable Playgrounds and Party Rentals is easy and hassle-free! Rent a water slide in Columbus GA in just a few clicks and you're all set to make party dreams come true.
Surf the Selection: Dive into our website and splash around the "Water Slides" category to see all the cool and refreshing options we offer.


Pick Your Wave: Found a slide that'll make a splash at your party? Click on the image or title to get more details about your chosen slide.


Verify Availability: Once you've found the right water slides, click "Add to Cart" and then "Choose Date." Choose the date, time, and end time of your event.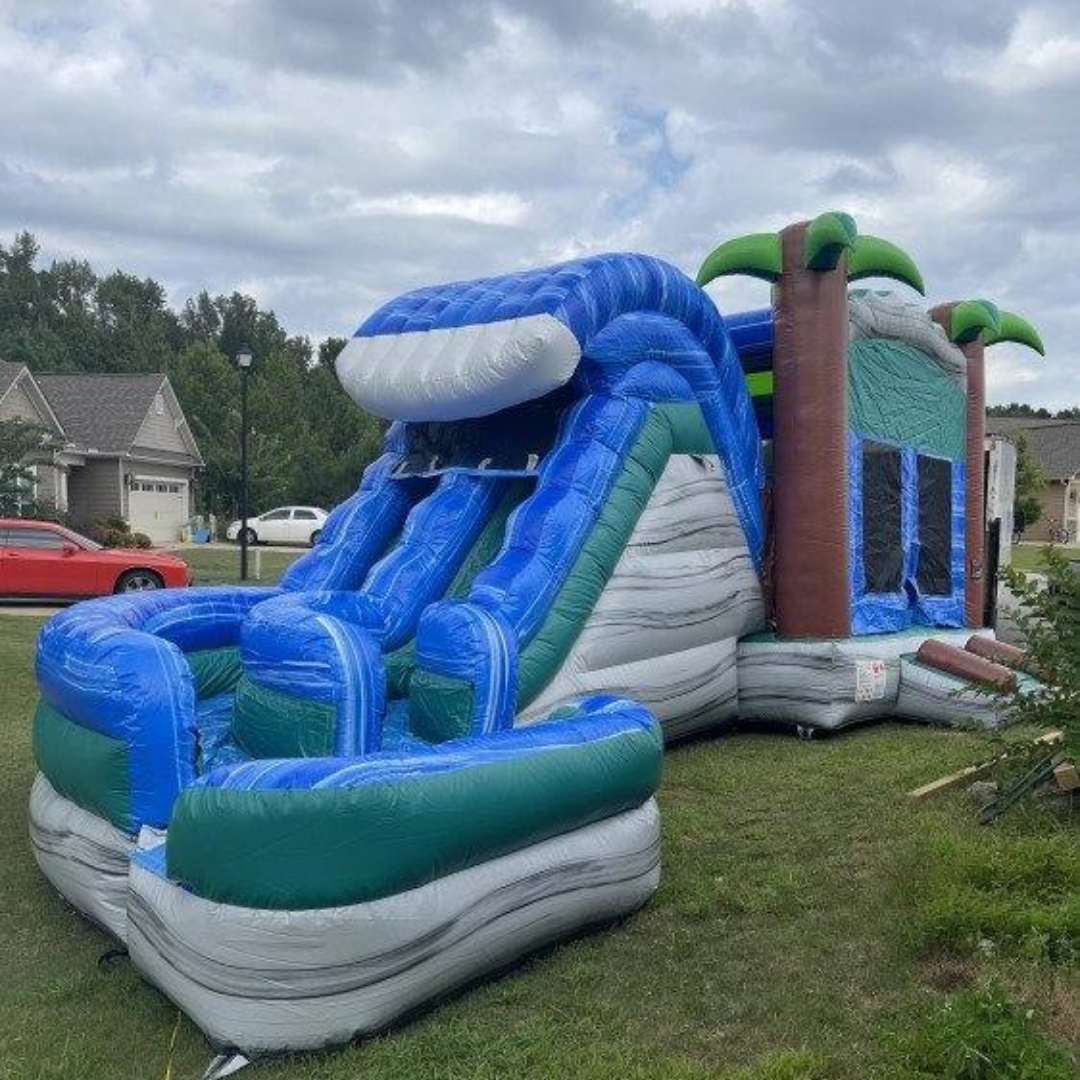 Enter Your Info: Fill in your contact information and event details. We want to make sure we know exactly where this epic splashdown is going to happen.


Review Your Order: Double-check your booking details. Make sure the times, dates, and water slide are correct.


Confirm and Pay: Once everything looks good, you'll proceed to the checkout page to lock in your rental. Fill out your details using any major credit or debit card.


Get Ready for Fun: After payment, you'll receive a confirmation email with all the details of your rental. Now you can get excited for the fun time ahead!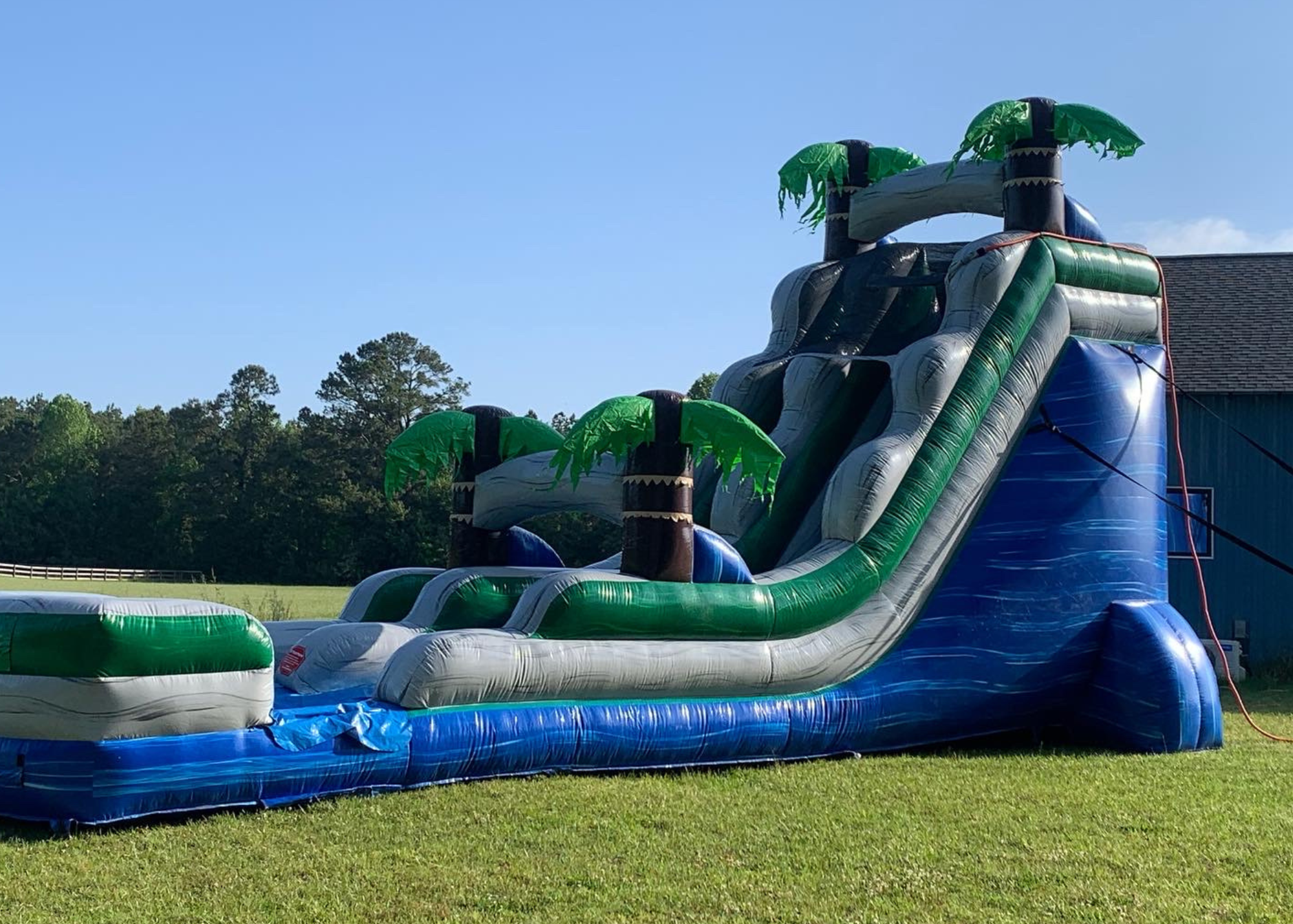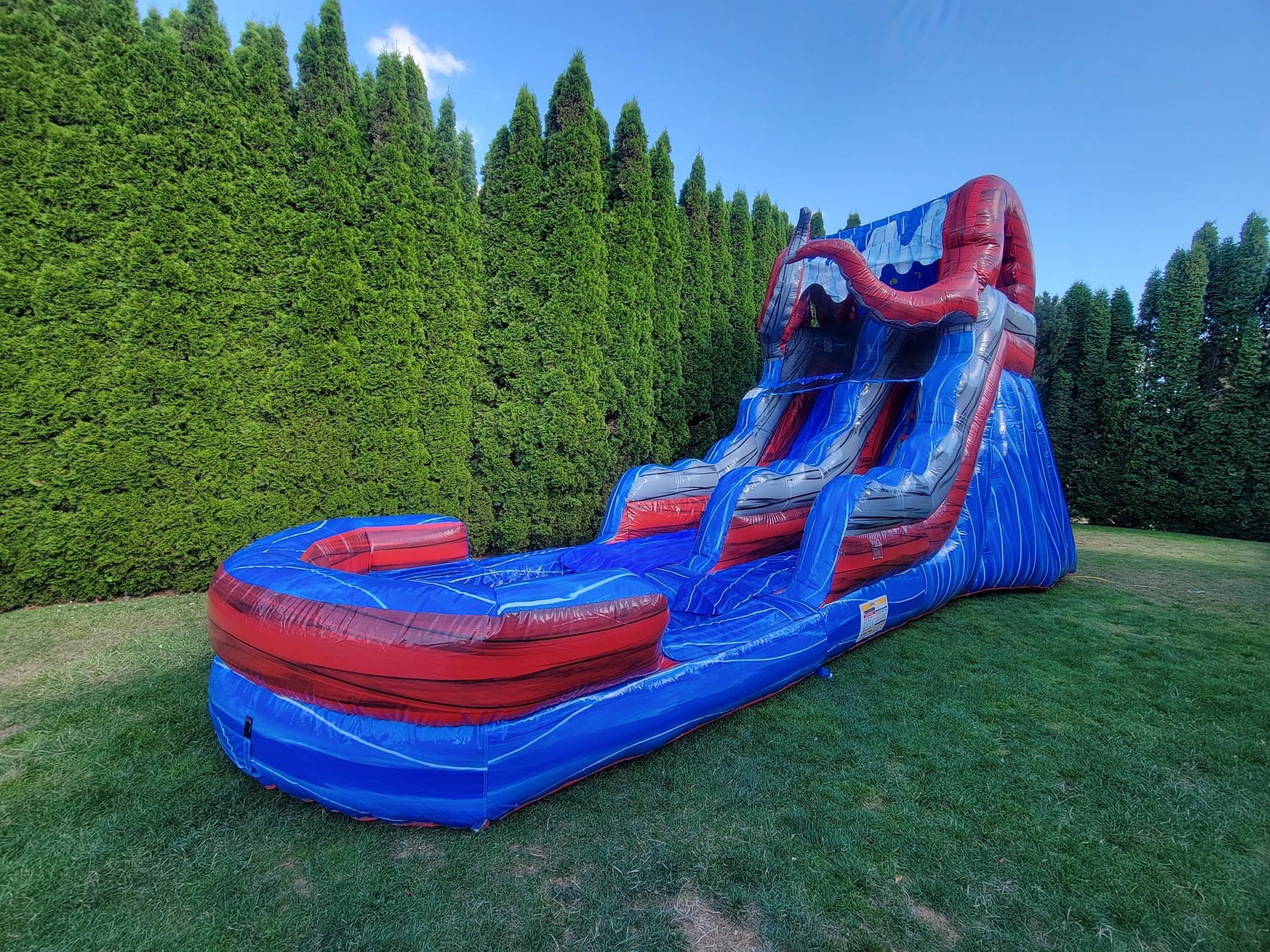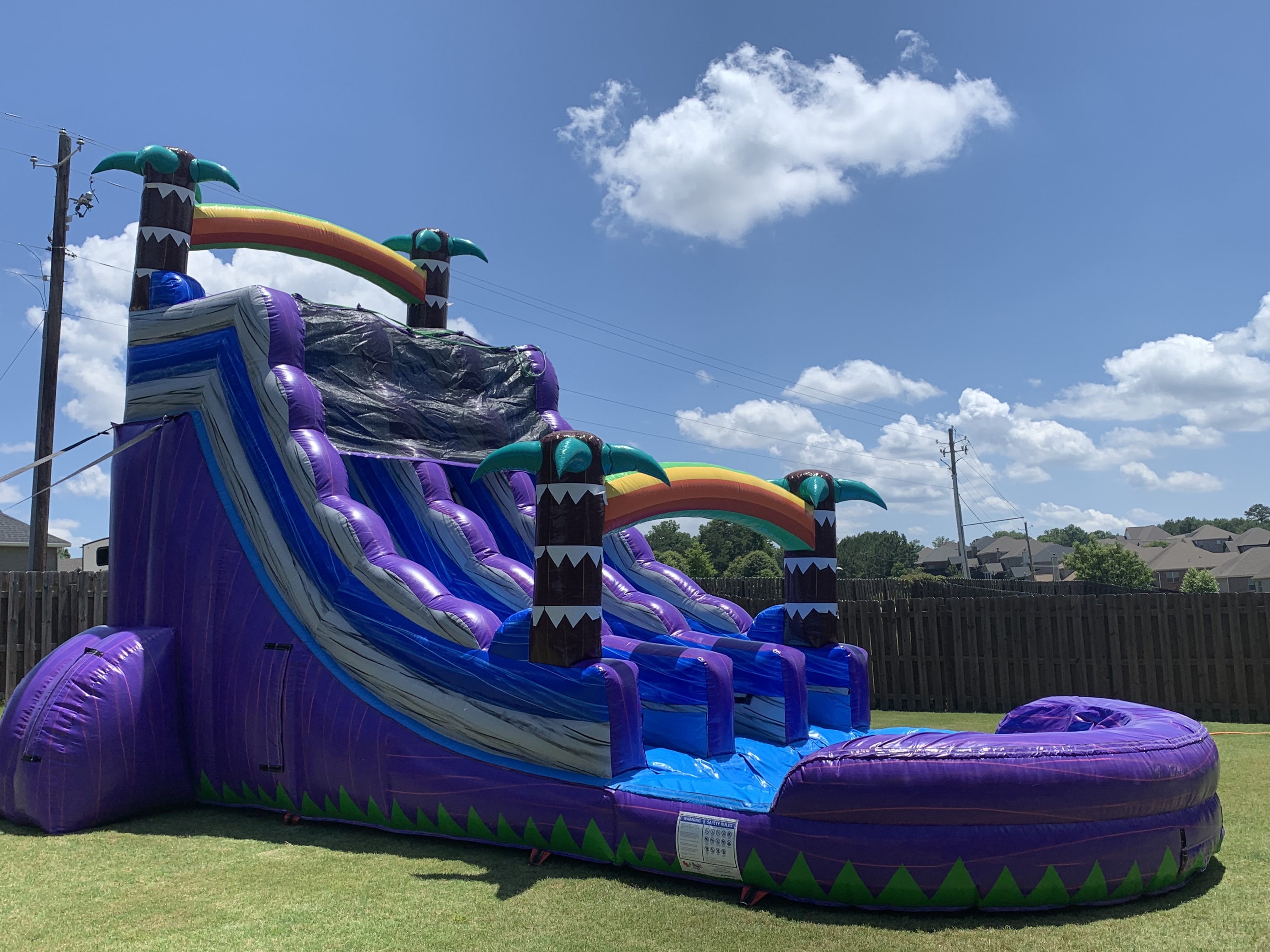 And just like that, once you rent inflatable water slides Columbus Georgia kids can't get enough of, you're on your way to becoming the hero of hydration and the sultan of splash at your next event!
Delivering the Water Slide Columbus GA Uses to Add Excitement to Any Event
We do more than just deliver the water slide Columbus GA uses for a good time; we're your neighbors, proudly serving the vibrant Muscogee County community. We carry a range of zip codes, including 31801, 31804, 31808, 31820, 31829, 31901, 31902, 31903, 31904, 31905, 31906, 31907, 31908, 31909, 31914, 31917, 31993, 31997, 31998, and 31999. We're happy to deliver to the surrounding communities of Phenix City, Fort Benning, Smiths Station, Midland, Fortson, Fort Mitchell, Seale, Cataula, Salem, Upatoi, Ellerslie, Hamilton, Pine Mountain, Opelika, Waverly Hall, Hatchechubbee, and Auburn. We take pride in spreading smiles and making waves with our unbeatable water slide rentals! Whether you're in downtown Columbus or out in the scenic outskirts, we've got your area on our radar, and we're thrilled to bring the fun right to your doorstep after a simple search for "water slide rental near me in Columbus GA."
We're not only about the slides; we're also about community engagement. We've been thrilled to support events for the Muscogee County School District, helping to make school functions even more exciting for our young scholars. Our customers love hosting events in all of the natural landscapes, from the stunning Columbus Botanical Garden Heritage Park to the adventurous trails of Flat-Rock Park. In our beloved state, there's no shortage of natural beauty to explore right in our backyard, all in addition to our inflatable water slides for rent in Columbus GA. If you're planning a fun-filled event in Columbus, GA, don't forget to check out our obstacle course rental Columbus GA options for an exciting and challenging experience!
But the fun doesn't stop at parks! Our lovely community is chock-full of amazing landmarks that deserve a visit. Maybe after your big bash, take a stroll down the RiverWalk, or become an astronaut for a day at the Coca-Cola Space Science Center. How about diving deep into history at the National Infantry Museum and Soldier Center or the Columbus Museum? Don't forget Fort Benning, which adds a touch of honor and history to our region. So, yeah, we're not just in the business of renting out a water slide Columbus GA can trust; we're in the business of celebrating the awesomeness that is Muscogee County.
FAQs About the Water Slide Rentals Columbus GA Chooses First
Do you have questions about the water slide rentals Columbus GA uses year-round? Our FAQs section is a treasure trove of answers that will make your water slide rental experience as smooth as a slip 'n slide! Read through our FAQs below and get in touch with our team by giving us a call at (706) 940-2386 if you have any questions!
Q.
What age groups are the water slides suitable for?
A.
Our water slides are a blast for just about everyone—from the little tykes to the young-at-heart adults! Each slide has its own splash-tastic features, so make sure to check the specific slide's info for any age or weight recommendations. Safety comes first, so we'll make sure you pick the perfect slide for your crowd. Just give us a call for any help or guidance.
Q.
What's included in my water slide rental?
A.
Your rental packs a punch with everything you need to make a splash! It includes the water slide of your choice, the blower to keep it inflated, and a hose to hook up to your water supply. Plus, we handle the setup and takedown of the water slides for rent in Columbus GA, so you get to enjoy the party while we do the heavy lifting.
Q.
Do I need to supply anything for the water slide setup?
A.
For our big inflatable water slide rentals in Columbus GA, you just need to have a water source and an electrical outlet within reach. We'll bring the rest to get your water slide up and running. Don't forget to clear a spot for us to set up your inflatable oasis.
Q.
What kind of payments do you accept for your water slide rentals?
A.
We accept all major credit and debit cards when using our online booking platform to pay the minimum deposit or full amount, or we can accept cash the day of the event. If paying in cash for the best water slide rentals Columbus GA has to offer, be sure to provide the exact amount as our drivers do not carry change.
Excellent Reviews For Our Water Slide Rentals in Columbus Georgia
Our water slide rentals in Columbus Georgia consistently earn 5-star ratings, and we couldn't be more proud! Our valued customers love us, and we love 'em right back! From the moment you click 'Book Now' to the final slide of your event, we deliver joy, quality, and epic water fun! Our waterslide rentals in Columbus Georgia are always clean, incredibly safe, and ready for a day full of leaps and laughs. And let's not forget our awesome customer service; we're here for you every hop, skip, and jump of the way. Your happiness is our business. Read through a selection of our reviews below and book your water slide rentals in Columbus online today!
What Customers are Saying
"The staff was very nice and helpful. They gladly worked with me. Set up was quick and easy in our backyard and Jacob made sure the bounce castle was in a secure location. The kids enjoyed it!! So did I! 😀 I definitely recommend this company. We will be renting again!"
- Monica G.
"Great drop off and pick up experience and very good prices, also got a free day because of their busy drop off schedule. the best in town!"
- Heaven P.
"These folks are completely professional delivery and pick up staff were fast and super friendly! Cost…unbeatable. Quality on point. Thank you for making our party a hit! Perfect cool down for the kiddos at a retirement party in the AL heat!"
- Kelly C.
Previous
Next